Advertise in Web City USA
Web City USA is a portal destination on the Web for information on a variety of subjects. Providig the means for (GrassrootsMobilization HashtagTheResistance) make Web City USA a highly sought after tool. Advertising in Web City USA is a unique opportunity to reach our targeted diverse audience.
The fastest, easiest, and most affordable way to advertise in Web City USA is via Google's Advertising program. We work closely with Google and feature Google image and AdWords space prominently on our site. Google AdWords provides extensive options for all types of ads, keyword matching, geo-targeting, and many other tools for making your campaign successful. You can choose text or image ads, choose keywords that match your specific product or service, and even advertise locally with extreme precision.
Finally, Google's dynamic pricing system always ensures that you never pay more than you need to. Each time your ad is displayed, you only pay the minimum necessary to reach the goals you specifiy. This lowers risk and practically guarantees a return on your investment. If you have any questions about advertising in Web City USA , please E-mail customerservice@webcityusa.net
To get started click on this graphic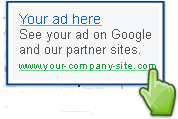 ---
Copyright © 2018 Web City USA All rights reserved.